NEW PATIENT CONSULTATION FEEA new patient initial consultation will last approximately one hour. The consultation fee is $119.00
NEW PATIENT CONSULTATION FEE
A new patient initial consultation will last approximately one hour. The consultation fee is $119.00 with an additional fee if radiographs are necessary to efficiently determine your treatment.

OFFICE PAYMENT POLICY
Our dental practice is a fee for service office. However, multiple appointment procedures only require one-half of payment at the beginning of treatment followed by the final payment the day of completion. In addition to cash or check, we accept MasterCard, Visa and Discover Card.

DENTAL INSURANCE
Our dental office is recognized as an Out-of-Network provider by your dental insurance company. Upon request, prior to the start of the dental treatment we will obtain a pre-determination of benefits from the patient's dental insurance company. Once the treatment has been completed, as a courtesy to our patients, we will also electronically submit a claim for reimbursement. However, it is the patient's responsibility to follow-up with their insurance company thereafter. Important note to patients: Our dental practice is unable to submit claims to Medicare or Medicaid.
FINANCING OPTIONS
**Our dental providers are OPT-OUT Medicare providers. If you have Medicare Part B with supplemental insurance that provides coverage for dental services, filing dental claims is prohibited under the rules set forth by Medicare. Patients are responsible for payment at the time services are rendered. Please contact a member of our office team for further information.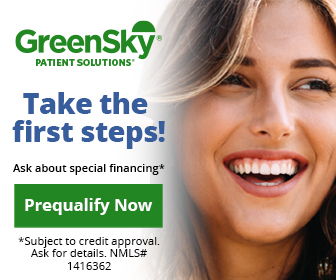 Begin your application process with these easy steps:
We've also partnered with LightStream to bring you low rates on medical loans.
All lending services are provided by LightStream, a division of SunTrust Bank, and we may be compensated by LightStream through links on this site.
When you have good to excellent credit, you've earned a low rate on an unsecured personal loan for any medical or dental expense from our financing partner LightStream, the nation's premier online consumer lender and a division of SunTrust Bank.
With a LightStream loan, you can finance just about any medical expense, from any practitioner, with complete privacy and discretion. Here's what else you can expect with a LightStream loan:
LightStream will even plant a tree once your loan is funded!
---
"Congratulations on doing an EXCELLENT job on the loan. It is incredible how little paperwork was required. You did everything you said you would in a very timely manner. I would not hesitate to use your company again or recommend you to others."
— C.K. from Stockton, CA
---